The Herefordshire Squash League
2019 - 2020 Season
We currently have 6 teams who have registered an interest in playing in the league this year.
Anyone interested in entering a team for 2019 should contact Terry Prosser via Herefordshire Squash, Tennis and Racketball Centre or via the contact page.
The first fixtures will be played in early October.
Last season DPM won the league, for the second year running.
Player of the season last year was Nick Hyett from Certainly Wood
Other nominees were:
Adam Dance, Presteigne
Alan Glass, Certainly Wood
Brian Hayward-Hughes, Stooke, Hill, Walshe
Doug Rogers, Monmouth
Lee Hutchinson, Butternuts
Nic Snell, Certainly Wood
Steve Rocke, DPM
Terry Prosser, DPM
The Herefordshire League currently consists of 6 teams, 4 of which play from Herefordshire Squash, Tennis and Racketball Centre, one from Monmouth Squash Club and one from Presteigne on the Herefordshire/Powys border.
Teams consist of four players playing in ranked order. All strings play PAR scoring to 15 points. All strings play to best of 5 games.
The knock-out competition is played according to PAR scoring for all strings, teams must field 5 players for this competition.
Junior Closed Championships 2014
Herefordshire Squash & Racketball Association held its Junior County Closed Championship on Saturday 13th December at Hereford Whitecross Club. The competition covered under 11s, a combined under 13 and under 15s and under 17 categories with a fun event taking place for younger competitors. A full afternoon of squash was provided for all competitors with every athlete guaranteed 4 games.
Owen Fish and George Grismond won through to the final with Tom Lewis and Sam Harris fighting it out for 3rd and fourth places in the under 11s. Tom Lewis played a controlled game to take 3rd place despite Sam's brave resistance. In the final Owen seemed to have the match in his grasp after winning the first game but George rallied and fought back to take the title.
In the under 13/15s group Jack Harris took on Flynn Edmonds in the 3rd/4th playoff. It was Flynn's first experience of competitive squash and he acquitted himself admirably but Jack's greater experience was enough to see him win through. In the final for this age group brothers Luke and Connor Wilkins treated spectators to a titanic battle. Connor took the early advantage winning the first game but Luke's greater strength and fitness eventually told to see him win the title.
The under 17 category featured a range of experience and ages. The playoff for 3rd and 4th saw Harry Hutton take on the youngest player in the group Owen Davies. Harry's game had developed quickly throughout the afternoon and, despite losing to his opponent earlier in the afternoon, he was able to defeat the younger player and take 3rd place. The final was a relatively one-sided with the very experienced Ben Brookes overcoming the brave resistance of Tom Sharp in his first competition.
The winners and runners-up in all categories received new racquets and the 3rd and 4th place competitors received sports bags donated by Dunlop.
2017 - 2018 Season
DPM won the Herefordshire Squash League for the second time in their history.
Representatives of the 2013-2014 league winners, DPM: Team Captain, Graham Bolton and Steve Rocke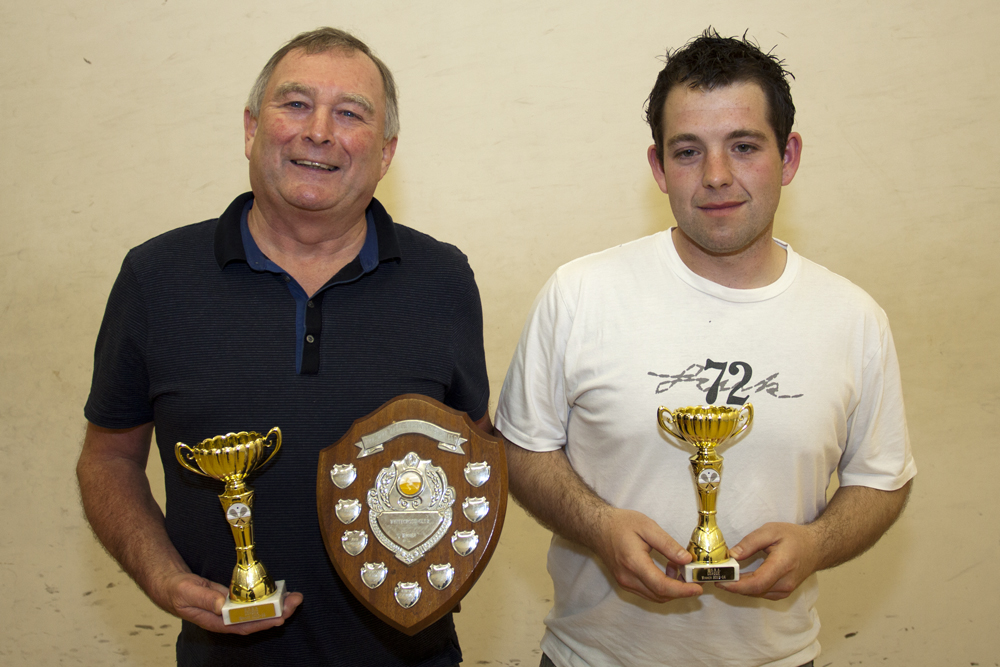 The 2013-2014 Martin Gillet knockout competition winners, Whitecross Bears: Matt Prosser, John Hill, Mark Sheehan, Steve Hill,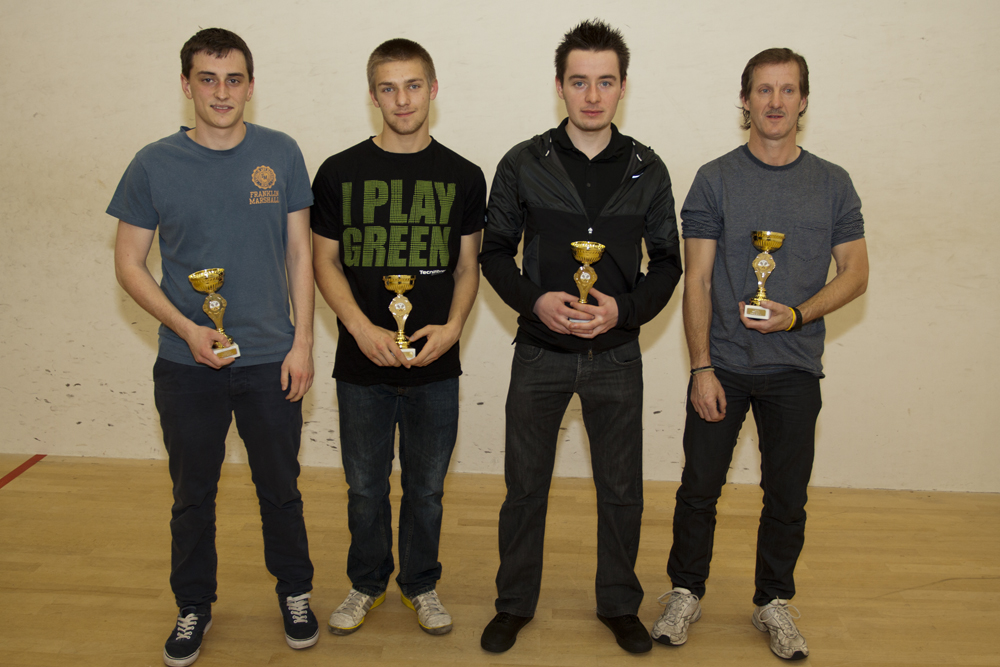 The 2013-2014 Martin Gillet knockout competition runners-up, Whitecross Wannabees: Team Captain, Sean McNally, Cameron McNally, Matt James, Matt Grismond, Andy Sampson, Alex Wilson